Polka dots are amazing.  That said, I don't have many items with polka dots.  I usually gravitate towards things that are a little more plain (blah) and add lots of accessories on top.  Or I add fun tights (and here I do both).
This past weekend, I needed something that would keep me warm but would also be theatre-appropriate.  I joined Jonathan on an outing to the ballet with some of his trivia friends.
When I saw this dress, I was instantly drawn to it.  First, it's gray.  We all know how much I love me some gray things.  Second, it's a sweater-dress.  Perfect for winter.  Third, it was a cool pattern!  Usually, polka dots are smaller and closer together.  I love that this is a little more "graphic" with it's dottiness and less like a repeating pattern.
Dress: Old Navy | Sweater: one of a kind made for me! | Tights: Target | Boots: Michael Kors | Necklace: Chloe and Isabel
Of course, I had to add on a fun necklace.  I love the orbs of sparkle in here and they reflect the dots in the outfit.
I was going to wear booties so you could see more of the pattern in the tights, but it was cold, so I was going for as much body coverage as possible.  For that purpose, I love these boots.  I found them for a mad steal at an end-of-season sale.
My favorite part of this outfit is the sweater.  My mom made this for me and it fits perfectly without her measuring it against my body while she was making it.
Let me emphasize her talents.. She lives in Virginia.  I live in Pennsylvania.  And she knit a sweater that fits just based upon knowing my shoulder span.  Insane.
It was freezing when I was taking pictures, so that's why we only have a couple of shots.  Props to Jonathan for standing outside with me and taking pictures.  He was wearing a coat, gloves, hat, ear wraps, scarf and still complaining that he was cold, though!  Men… (Thanks, sweetie!)
Side note: where does "polka dot" come from?  Also, does it start to look wrong the more you write/say it?  Because I'm over here like "polka dots…poka dots…poke-a dots…wait what's right anymore?"
Linking up with: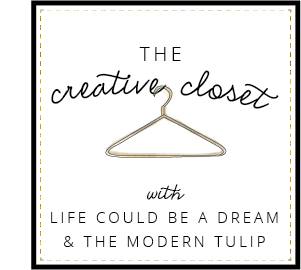 [disclaim]The Chloe and Isabel link isn't a referral link, but Carly is a friend of mine and I want to support friends where I can.  So go check out her boutique![/disclaim]